Grutas de Alvados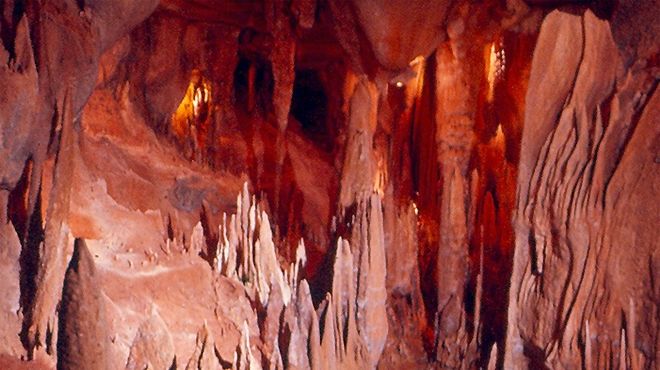 Grutas de Alvados
In 1964 a group of quarry workers in the Serra dos Candeeiros heard a strange noise, as if a stone had fallen into a very deep abyss. This was how the Alvados caves were discovered, more than 150 million years after their formation in the Middle Jurassic age, when the dinosaurs populated this region.

The entrance is at an altitude of 440m, and the depth inside reaches 100m, in a succession of rooms adorned with stalagmites and stalactites forming fairytale figures like those found in the Statue, Sleeping Beauty and Cypress rooms, the Wonderful Planet and the Lake of Wonders.

Appropriate lighting, steps, stepping-stones, background music and the pleasant temperature of 17 degrees Celsius invite you to enter the wonderful kingdom of one of the finest of Nature's works.
Contacts
Place:
Alvados  -  2480 PORTO DE MÓS 
October/March - 9.30am to 5.30pm April/May - 9.30am to 6.00pm June and September - 9.30am to 7.00pm July and August - 9.30am to 8.30pm
---