Altice Arena / Pavilhão Atlântico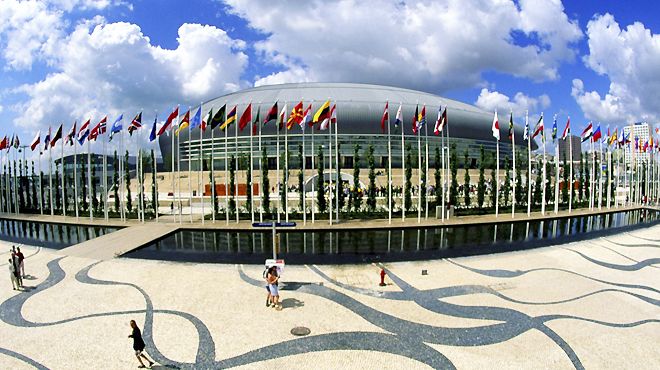 Altice Arena / Pavilhão Atlântico
The Altice Arena / Pavilhão Atlântico is a multi-purpose space designed to host performances, conferences and large-scale sporting events.

Designed within the framework of Expo 98 by the architect Regino Cruz associated to the international architecture firm, Skidmore, Owings & Merrill, the Pavilion reminds us of a spaceship or marine animal. Its interior structure highlights the building's relationship with the theme of the world exhibition -- the Oceans -- given that the wooden beams supporting the roof covering remind us of the ribs of a 16th century ship.

The quality of the Pavilion's architectural and operational characteristics were recognized in 2001 by the International Olympic committee and International Equipments Association, with attribution of the IOC/IAKS Gold Prize in the category of "sports equipment for international events".

According to the Portuguese architect responsible for designing the building, Regino Cruz, the most evocative aspect of the theme developed by EXPO´98 - the Oceans - lies in the supporting structure and the form of the roof covering. For the architect, this structure, composed of lamellated wooden arches, with a span attaining a maximum of 114 metres, is similar to the ribs of one of the ships that took part in the Discoveries.
Contacts
Address:
Rossio dos Olivais, Lote 2.13.01A
1990-231 Lisboa
Telephone:
+351 21 891 84 09
Fax:
+351 21 891 84 13/37
---