Madeira through the eyes of Ea Ejersbo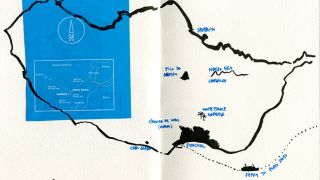 Ea Ejersbo had only a vague idea of the history and geography of Portugal. She had been to Lisbon, and remembered it as an old, beautiful, city, with plenty of interesting details, good weather and friendly people. Her idea of Madeira was of an Atlantic island, with green mountains and a subtropical climate, where a well-known fortified wine is made.

The visit to Madeira became a source of visual inspiration and a very pleasant journey of flavours. In her words, "The island has a fascinating and unique 'personality' at the intersection of landscape, flora, ocean, history and local culture."

Impressed by the lush, green vegetation she become interested in aspects of local life and in traditional means of subsistence that are still linked to farming and fishing. Since the road network is good it was possible to visit the island's main points of interest in a few days and still have time to enjoy the lively atmosphere of Funchal, which is not surprising, considering the time of year, which was December. It was an opportunity to watch the wonderful firework display on New Year's Eve. At the end, she wanted to return and get more involved in the local experience.
Funchal

Cable car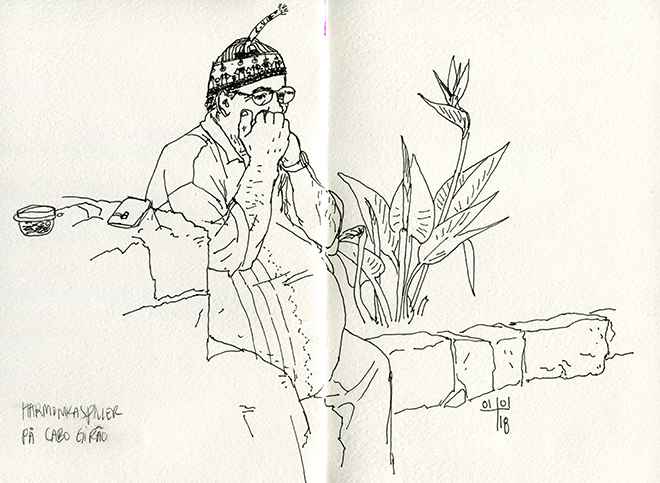 Pico do Arieiro



Ferry Madeira - Porto Santo

Ilha de Porto Santo



Limpets

---
Ea Ejersbo
Ea Ejersbo is an artist, instructor, trained printmaker and poet. She is a founding member of the Urban Sketchers group and has been sketching with them since 2008. Her art experience centres mainly around sketchbooks, and comes almost exclusively from direct observation. She does a lot of people-sketching wherever she goes.
Ea works in a school of street performing arts, and has a particular interest in the areas of communication, planning and international projects. She lives in Denmark, in the city of Århus.
---
---