Convento do Espinheiro Historic Hotel & Spa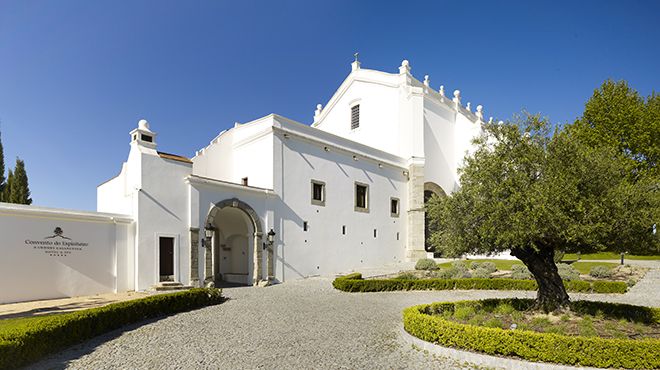 Convento do Espinheiro Historic Hotel & Spa
Type of accommodation
Hotel accommodation
Category:
Hotel
Classification:
*****
Just 2kms away from the city of Évora, the hotel is surrounded by 8 hectares of beautiful gardens and its interior has been luxuriously decorated, maintaining the character of old times.

Perfectly combining the old and the new, the hotel offers a Gastronomic Restaurant located in the former wine-cellar and a Piano Bar in what used to be the old kitchen used by the monks. An area for wine tasting and the savouring of regional dishes has been created in the old gothic water deposit and numerous meeting and event facilities are perfect for the celebration of different types of business meetings or celebrations. The church, with its valuable golden engravings and ancient hand painted Portuguese tiles has been carefully restored. Here, mass is celebrated once a month and weddings and christenings may be held.
Immersed in history, the Convento do Espinheiro Historic Hotel & Spa offers a peaceful and inspiring atmosphere, ideal for a relaxed stay.
Contacts
Address:
Hotel Convento do Espinheiro
Canaviais - 7005-839 Évora
Telephone:
+351 266 788 200
Gay friendly
Internet Access
Air conditioning
Central heating
Restaurant
Bar
Piano Bar
Shops
Laundry service
Games room
Television room
Gymnasium
Tennis courts
Jacuzzi
Sauna
SPA
Swimming-pool
Indoor swimming-pool
Garden
Baby Sitting
Smoke free
Reserved area for non-smokers
Reserved area for smokers
Pets allowed
Number of beds
: 133
Number of rooms
: 92
Number of suites
: 10
Target price
: $$$$ (>90€)
Internet access in room
Air conditioning in room
Steel safe in room
Mini-bar in room
Hair dryer in room
Heating in room
Telephone in room
Television in room
Breakfast timetable
: 07:30-10:30
Room service timetable
: 24 h
Bike friendly
Transfer service
Train stations
Outdoor parking
Disabled access
Reserved parking spaces
Accessible route to the entrance:
Accessible entrance:
Reception area suitable for people with special needs
Accessible circulation inside:
Accessible areas/services:
Bedrooms
Meeting rooms
Restaurant
Bar/Café
Patio
Gym
Spa
Care skills:
Visual impairment
Hearing impairment
Motor disability
Mental disability
Support products/services available:
Visual impairment
Hearing impairment
Motor disability
Mental disability
---