Zmar Eco Experience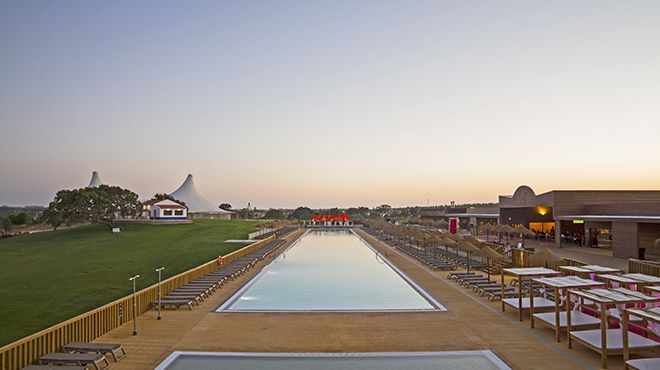 Zmar Eco Experience
Type of accommodation
Camping
Category:
Public
HONOUR MENTION BY TOURISM OF PORTUGAL 2009 AND SUSTAINABILITY AWARD BY TOURISM OF PORTUGAL 2010
Zmar Eco Experience is a unique Resort in Portugal that focuses on nature, ecology and sustainable tourism.
Located in the heart of the Vicentina Coast, near the most beautiful beaches in the Country, Zmar is a unique Ecotourism project: it's 81 hectares of Alentejo surrounding landscape, with an original concept, unique in its ecological awareness, in its wide range of modern and fully equipped facilities, with numerous activities and accommodations, for resting and fun in Harmony with Nature. Zmar offers wooden accommodations fully equipped with solar thermal panels to heat the water, living-room with air conditioning, satellite TV and internet, kitchenette, bathroom and one or two rooms.
The restaurant offers a wide variety of local and fresh products, also integrated in an innovative concept that combines buffet, bar and show-cooking. The Spa at Zmar is just what you need to balance the energies of the body, emotions and mind. Zmar also offers a wide variety of sports and adventure activities, a Zen Tent for events and all the services needed to make your stay worth your while. Bring your children and let them discover the eco amusement park and workshops & ateliers at the Kidz's house.
Nature is in the centre of Zmar.
Contacts
Address:
Multiparques A Céu Aberto, S.A
Herdade A-de-Mateus, Caixa Postal 3845 - Longueira-Almograve -
7630-011 Odemira | Portugal
Telephone:
+351 212 420 580
Caravan instalations
Tents instalations
Tent renting
Bungalows renting
Sand ground
Artificial shadows
Bathing facilities
Hot water showers
Sinks
Snack Bar
Restaurant
Bar
Baby Sitting
Television room
Internet Access
Swimming-pool
Indoor swimming-pool
Gymnasium
SPA
Tennis courts
All-purpose field
Disabled access
Sanitaries of handicapped persons
Indoor Swimming Pool with waves; 100 m outdoor swimming pool; children swimming pool; Pet animals allowed only in the camping area; - Restaurants & Bar- Spa & Gym; - Lounge; - Tree-top Circuit, Tennis and Paddle fields, Paddle, Multi-use fields, Human Foosball Field, Archery, Cycling Track, Pedestrian Trail; - Kids Area with Playground and House for Workshops, Pedagogical Farm; - Bicycle Hire – Events and Meetings Tent - Store.
Registration No.
: 247
---