Valonquinta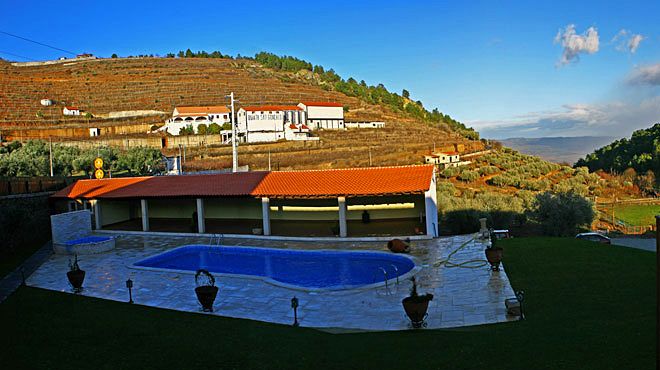 Valonquinta
Type of accommodation
Tourism in the Country
Category:
Agricultural Tourism
The Valonquinta is located about 1500 meters from Vila Flor, in the municipal road between Vila Flor and Roios. The farm occupies an area of 20 hectares, comprising areas of forest, fields of vegetables, olive groves, vineyards, orchards and an area for animals and lakes. Throughout its area there are several ways that allow pleasant walking, horse riding, cycling or even Moto 4. The diversity of species of animals and trees provides a Pedagogical component especially for the younger generation on the ground can compare the various species.

Valonquinta covers more than 1000 m2. It consists of the rooms, games room, library, dining-room, pantry and kitchen, several living-rooms and a reading room, bar, laundry, and a barbecue. All these parts are distributed in square thus an excellent patio in granite in the central area of about 500 m2, with a big wheel in the center of wells where water is a constant.
Contacts
Address:
Estrada Municipal Vila Flor - Roios
5360 130 - Vila Flor
Telephone:
+351 915 336 575; +351 915 336 571
Number of beds
: 16
Number of rooms
: 8
Rooms in the main house
: 8
Double rooms with toilet
: 8
Restaurant
Bar
Reserved area for non-smokers
Reserved area for smokers
Pets allowed
Internet Access
Central air conditioning
Central heating
Games room
Television room
Swimming-pool
Internet access in room
Air conditioning in room
Heating in room
Steel safe in room
Hair dryer in room
Mini-bar in room
Television in room
Telephone in room
Train stations
Outdoor parking
Covered garage
Guiding price
: $$$ (60€ - 90€)
Credit cards accepted
Travellers Cheques accepted
Registration No.
: 7418
The recovery of the Farm Valongo (Valonquinta) was designed to give you moments of leisure, in a unique tramontane in its 20 hectares of extension giving them direct contact with nature. The reconstruction of existing buildings, was designed in order to offer you an atmosphere of unique rest, with class, distinction and harmony. We await your visit.
---