Biblioteca Joanina (King John's Library)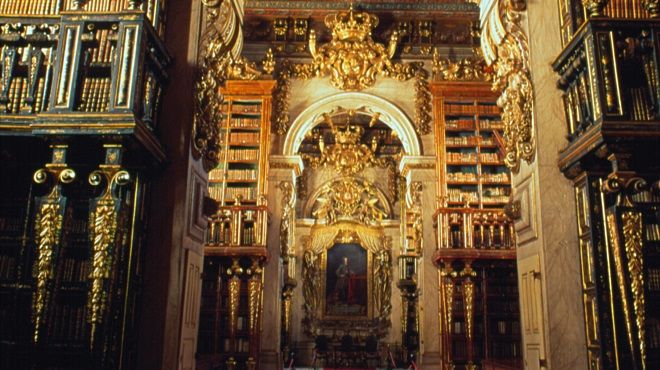 Biblioteca Joanina (King John's Library)
The Biblioteca Joanina is considered one of the richest Baroque libraries in Europe. Built between 1717 and 1728, this sumptuous space is located in the most central part of the University of Coimbra, the Paço das Escolas. The structure was built to house the university library, with a collection of over 300,000 volumes dating from before 1800 and a large Old Testament collection.

The library has three rooms that nobly reflect the patronage spirit of its founder, King John V of Portugal, decorated in gold on green, red and black backgrounds. The monarch's coat of arms welcomes visitors in the large portico at the entrance, and the King is also present in the wall at the back of the building, at the junction of the three rooms, a portrait dating from 1730 which acts as a "vanishing point".

Inside, the walls are lined with solid shelves of exotic wood made up of two bodies, separated by a balcony supported by columns. It was painted and gilded by Manuel da Silva. The main floor is divided into three rooms separated by arches identical to the outer doorway, bearing the insignia of the former faculties of the University. The ceilings were painted in trompe l'oeil by António Simões Ribeiro and Vicente Nunes to give the illusion of greater height.

The library contains many works by New Christians who taught at the University, including the Coimbra Bible, an important symbol of Judaism in Portugal, commonly known as the Abravanel Bible. Certainly produced by the so-called Lisbon School, with strong influences from the Andalusian School, this volume is decorated with Islamic influence, crossing Jewish and Christian cultures.
Contacts
Address:
Universidade de Coimbra - Paço das Escolas 
3004-531 Coimbra
Telephone:
+351 239 859 800
Disabled access
Accessible route to the entrance:
Accessible entrance:
Reception area suitable for people with special needs
Accessible circulation inside:
---