Golden Residence Hotel Madeira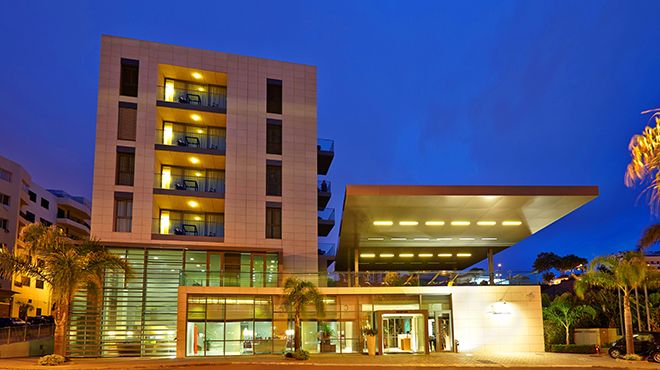 Golden Residence Hotel Madeira
Type of accommodation
Hotel accommodation
Category:
Aparthotel
Classification:
****
The Golden Residence welcomes you to a luxurious 4-star hotel in an excellent location on the south coast of Madeira.

Overlooking the sea and some imposing cliffs, the opportunities for fantastic sunsets are offered every day during your holidays. Once inside, the hotel is built with many open spaces to make the most of the natural light and a modern and luxurious design with comfortable and functional public areas to rest, relax, read or socialize with your fellow guests.

The atmosphere is complete with the panoramic sea views and some of the banana plantations still existing in Funchal.

More than a hotel, at the Golden Residence you will find the perfect solution for a holiday where well-being and relaxation will take on a new meaning for you. The excellent service and careful attention for small detail is what makes the difference. … and we encourage you to discover its many charms.

Contacts
Address:
Rua do Cabrestante, 25
9000-105 Funchal
Telephone:
+351 291 710 100
Gay friendly
Internet Access
Air conditioning
Central heating
Restaurant
Bar
Laundry service
Games room
Television room
Gymnasium
Jacuzzi
Sauna
SPA
Sun beds
Swimming-pool
Indoor swimming-pool
Garden
Baby Sitting
Baby-care facilities
Smoke free
Reserved area for non-smokers
Reserved area for smokers
Number of beds
: 339
Number of rooms
: 172
Number of suites
: 63 Dbl + 7 Sgl
Number of apartments
: 39
Target price
: $$$ (60€ - 90€)
Internet access in room
Air conditioning in room
Steel safe in room
Mini-bar in room
Hair dryer in room
Telephone in room
Television in room
Dinner service: 19h00 - 22h00.
Breakfast timetable
: 07h30 - 10h30
Bike friendly
Transfer service
Buses
Outdoor parking
Covered garage
Disabled access
Reserved parking spaces
Accessible route to the entrance:
Accessible entrance:
Reception area suitable for people with special needs
Accessible circulation inside:
Accessible areas/services:
Bedrooms
Meeting rooms
Restaurant
Bar/Café
Patio
Swimming pool
Gym
Spa
Care skills:
Visual impairment
Hearing impairment
Motor disability
Mental disability
Support products/services available:
Visual impairment
Hearing impairment
Motor disability
Mental disability
---