Golf do Estoril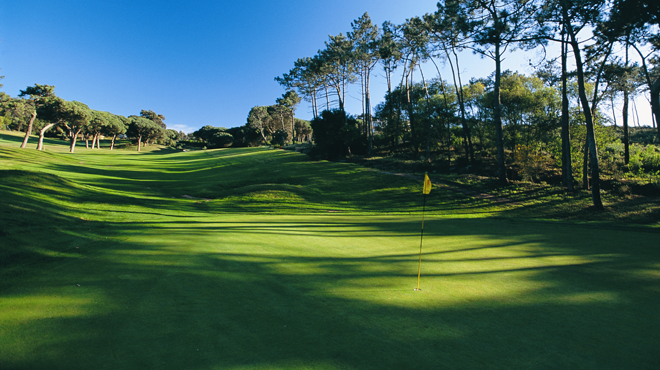 Golf do Estoril
One of the oldest golf courses in Portugal, Golf do Estoril offers its visitors spectacular views over the Atlantic Ocean. It has become internationally famous because of its location close to the luxury seaside resort of Estoril and has long attracted some of the top names in world golf.

The course has been used on numerous occasions for the Portuguese Open, as well as for international amateur championships, with its fairways having been trodden by a whole host of champions – ranging from Max Faulkner to Severiano Ballesteros.

It is a short but challenging course, designed by Mackenzie Ross, who made excellent use of the surrounding pine-trees and eucalyptuses – which, coupled with the uneven terrain, make the course more a test of accuracy than of the ability to hit the ball long distances.

What better way to end your round than by sampling the excellent Portuguese cuisine at the club-house restaurant, from where you can also enjoy a spectacular view over the Atlantic Ocean. By way of curiosity, Ballesteros played his first professional tournament outside Spain at Estoril, in 1974, hitting a fairly unpromising first round of 89... on his 17th birthday.

Take advantage of your stay to enjoy the very best of Estoril's cosmopolitan atmosphere, with its Casino, parks, outdoor restaurants and cafés, and its constant reminders of the fact that several European royal families took up residence here during the Second World War. Right next door to Estoril is the town of Cascais, with its narrow streets, modern shops, bars and restaurants, guaranteeing you a full and exciting day out.
Contacts
Address:
Av. da República
2765-273 Estoril
Telephone:
+351 214 680 176
Inauguration year
: 1929 / 1936
Author/architect
: Jean Gassiat / Mackenzie Ross
Professional length
: 5189 m
Men's championship length
: 5189 m
Ladies' championship length
: 4602 m
Number of holes in course
: 18 + 9
Par of the course
: 69
Clubs hire
Buggies
Trolleys
Caddies
Individual lessons
Group lessons
Golf clinic
Shops
Restaurant
Driving Range
Putting green
Chipping area
30 October - 30 January
Week days: 7.30am - 6.30pm / Weekends and holidays: 7.30am - 7pm

1 February - 31 March
7.30am - 7pm

1 April - 30 October
7.30am - 8pm
---