Hotel da Montanha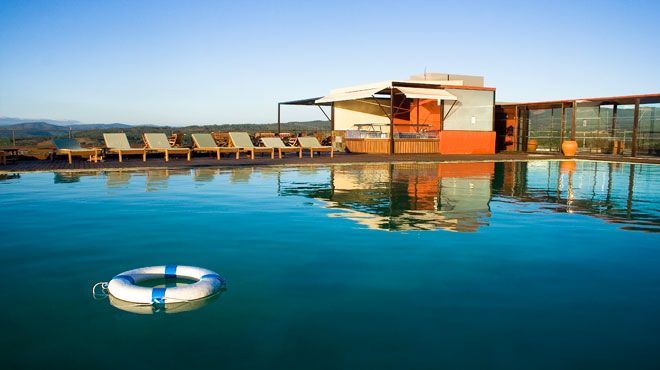 Hotel da Montanha
Type of accommodation
Hotel accommodation
Category:
Hotel
Classification:
****
Back to Nature is our slogan
Hotel da Montanha is located in the charming village of Pedrogão Pequeno in Central Portugal. At the top of the Monte da Senhora da Confiança, the hotel looks over Cabril lake and the stunning natural beauty of the region.

Our mission is to let you experience our surroundings as much as possible. We want you to hear/feel/smell and taste the wonders of our nature. This can be done by relaxing in the SPA or at the outdoor swimming pool, enjoying a local meal in our Restaurant Sabores da Montanha, celebrating the wonders of life in our events room or pumping up your adrenaline by driving one 4x4 quads, etc.

All with a panoramic view over the regions numerous mountains and the Zezere River. If you are looking for excitement, you will find excellent facilities for outdoor activities, sports and active tourism. If you are looking for the perfect meeting point, exactly in the Centre of Portugal, you will find it and much more.
Contacts
Address:
Monte da Srª da Confiança 6100-532 Pedrogão Pequeno
Telephone:
+351 236 480 000
Internet Access
Air conditioning
Central heating
Restaurant
Bar
Hairdresser
Television room
Gymnasium
Tennis courts
Jacuzzi
Sauna
SPA
Swimming-pool
Indoor swimming-pool
Baby Sitting
Reserved area for non-smokers
Reserved area for smokers
Pets allowed
Number of beds
: 145
Number of rooms
: 73
Number of suites
: 4
Target price
: $$$ (60€ - 90€)
Internet access in room
Air conditioning in room
Steel safe in room
Hair dryer in room
Heating in room
Telephone in room
Television in room
Breakfast timetable
: 07h30 - 10h00
Room service timetable
: 24h00 07h00
Credit cards accepted
Travellers Cheques accepted
---