Luz Houses e Luz Charming Houses, Boutiquehotel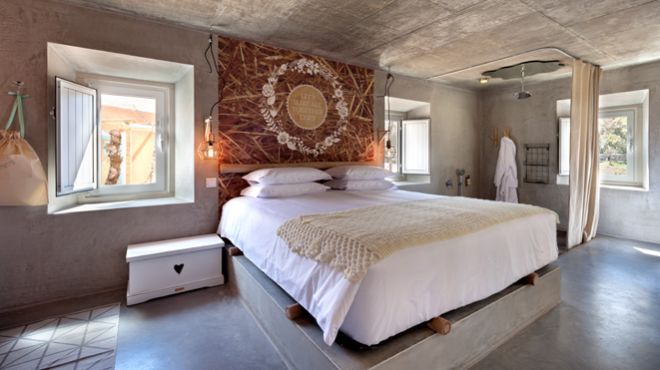 Luz Houses e Luz Charming Houses, Boutiquehotel
Type of accommodation
Tourism in the Country
Category:
Country Houses
Inspired by the history of a place and of a people, Luz - Charming Houses, located in Fatima, Portugal, offers 15 rooms with a simple and intimate decoration, a concept of a ""small village"", which architecture was inspired by the ancient villages in the region of Fatima.

At the "Mother House", or common area, we can find the reception desk, a small grocery store with products dating back to an ancient but not forgotten Portugal, the living room and the dining room, both of which have a fireplace, a terrace and an ""honesty bar"".

In the outdoor area within the trees and through the smell of the flowers, we find Luz Senses. Set in a natural cave, here we specialize in natural therapies that show the history and local knowledge, providing the visitors with various therapies and massages in a mystical place, offering a once in a lifetime experience.

The outdoor areas include other less common spaces, such as the sheep shelter, a centennial cistern and even a hermitage where our visitors may simply reflect and meditate, yet the perfect venue for special and intimate events.
Contacts
Address:
Rua Principal, nº 78
2495-650 Fátima
Telephone:
+351 249 532 275
Number of beds
: 30
Number of suites
: 6
Number of rooms
: 9
Rooms in the main house
: 1
Rooms in the adjacent building
: 14
Double rooms with toilet
: 9
Bar
Smoke free
Reserved area for non-smokers
Baby Sitting
Internet Access
Central heating
Laundry service
Games room
Television room
SPA
Swimming-pool
Garden
Internet access in room
Air conditioning in room
Heating in room
Steel safe in room
Hair dryer in room
Mini-bar in room
Television in room
Telephone in room
Breakfast timetable
: 9 a.m. - 11 a.m.
Room service timetable
: 1 p.m. - 3 p.m. ; 7:30 p.m. - 9:30 p.m.
Bike friendly
Transfer service
Buses
Disabled access
Facilities for disabled
Accessible route to the entrance:
Accessible entrance:
Reception area suitable for people with special needs
Accessible circulation inside:
Accessible areas/services:
Bedrooms
Meeting rooms
Restaurant
Bar/Café
Care skills:
Support products/services available:
Guiding price
: $$$$ (>90€)
Credit cards accepted
---