Montebelo Aguieira Lake Resort & Spa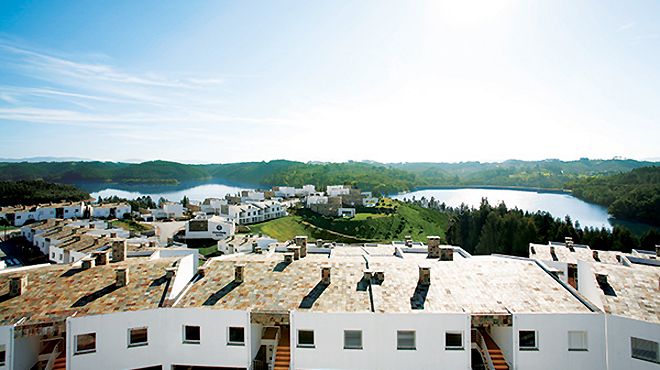 Montebelo Aguieira Lake Resort & Spa
Type of accommodation
Tourist Villages
Classification:
*****
Set within the dazzling landscape of the Aguieira Reservoir, between Viseu and Coimbra, the Montebelo Aguieira Lake Resort & Spa holiday resort offers a new concept of tourism, leisure and housing. Spread out over 35 hectares, it holds 152 different lodgings, from modern apartments to spacious villas.
With all the services and facilities of a premium hotel, it is the ideal place to spend your weekend or enjoy unforgettable holidays with your family or friends, or simply to go on a relaxing retreat.

Contacts
Address:
Vale da Aguieira 3450-010 Mortágua
Telephone:
+351 231 927 060
Internet Access
Air conditioning
Central heating
Restaurant
Bar
Shops
Games room
Television room
Gymnasium
Tennis courts
Jacuzzi
Sauna
Swimming-pool
Indoor swimming-pool
Mini-golf course
Baby Sitting
Reserved area for non-smokers
Number of beds
: 502
Number of detached houses
: T4 - 8
Number of apartments
: T1- 81, T2 - 51, T3 - 12
Rooms available for smokers
Internet access in room
Air conditioning in room
Steel safe in room
Hair dryer in room
Heating in room
Telephone in room
Television in room
Breakfast timetable
: 07h30 - 10h00
Room service timetable
: 07h30 - 22h00
Buses
Outdoor parking
Covered garage
Target price
: $$$$ (>90€)
The Resort has as well: a Marina (400 mooring places), water activities, laundry service, fitness trail, circuit for remote control cars, playground, bicycle hire, events room (400 people)
Registration No.
: 383
---