The Nest, by Cooking and Nature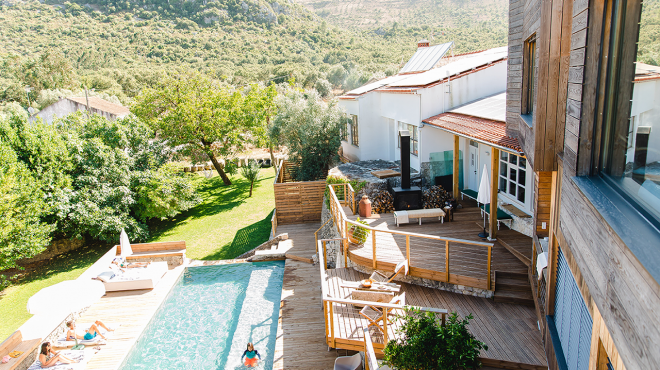 The Nest, by Cooking and Nature
Type of accommodation
Tourism in the Country
Category:
Country Houses
The Nest, by Cooking and Nature - Located 200m away from the Emotional Hotel, the younger brother, with Cooking and Nature 's signature, The Nest offers 8 double rooms and 2 apartments, evoking a special atmosphere with its minimalist décor bathed in wood. The word NEST arouses feelings of warmth, comfort and a safe haven.
Discover how the fauna of the Serra D'Aire e Candeeiros was the inspiration for our own nests.

Contacts
Address:
Rua D. Fuas Roupinho n.º 194
2480-032 Alvados
Porto de Mós
Leiria
Telephone:
+351 244 447 000
Gay friendly
Number of apartments
: 2
Number of beds
: 20
Number of rooms
: 8
Restaurant
Bar
Smoke free
Reserved area for non-smokers
Reserved area for smokers
Baby Sitting
Pets allowed
Internet Access
Central air conditioning
Laundry service
Television room
Swimming-pool
Garden
Internet access in room
Air conditioning in room
Mini-bar in room
Telephone in room
Breakfast timetable
: 8.30 - 11.30
Bike friendly
Transfer service
Outdoor parking
Disabled access
Reserved parking spaces
Accessible route to the entrance:
Accessible entrance:
Reception area suitable for people with special needs
Accessible circulation inside:
Accessible areas/services:
Bedrooms
Meeting rooms
Restaurant
Bar/Café
Patio
Swimming pool
Care skills:
Visual impairment
Hearing impairment
Motor disability
Mental disability
Support products/services available:
Visual impairment
Hearing impairment
Motor disability
Mental disability
Guiding price
: $$$$ (>90€)
Credit cards accepted
Massages according to availabilty and mandatory reservation. Dinner service mandatory reservation upon availability. Babysitting on-request according to availability
Registration No.
: 9489
---