Pátio do Avô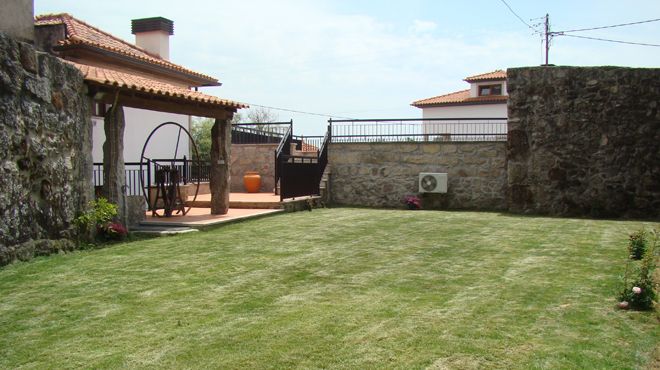 Pátio do Avô
Type of accommodation
Tourism in the Country
Category:
Country Houses
Country House Pátio do Avô (Grandpa's Patio) is a centuries-old country house. Its architecture is typical of the Beiras region. The house, wich once belonged to a family of farmers, cherished by the following generations, it was fully restored in the year 2010, combining both typical ancient architectural details and the most comfortable and modern features.
The house has two apartments: Recanto do Pátio ground floor e Varanda do Pátio first floor. Each apartment has three rooms (a suite with a private bathroom, and two other rooms with a common bathroom) and can accommodate up to six guests. There is a living room with a fireplace open to the kitchen and dining room. Internet and cable TV are available, and the kitchen is fully equipped with microwave, refrigerator, oven and other small appliances. We make sure everything is available for you to enjoy your stay.
Shared by both apartments, our guests can enjoy our patio with a terrace and an amazing view to the Serra do Caramulo. In addition, there is a barbecue, a traditional oven and a hall which houses a distinctive alembic (spirit distiller) and a traditional products. The apartment Recanto do Pátio also provides good accessibility conditions for people with reduced mobility (ground floor apartment).
In Country House Pátio do Avô you will find a quiet and welcoming house between the Mountain Regions of Caramulo and Serra da Estrela, a place to find happiness with friends and relatives. Enjoy both the serenity of this home and all the adventures and emotions this beautiful region to offer. We invite you to stay and live unique experiences, surrounded by a safe and exquisite environment.


Contacts
Address:
Avenida de São Pedro, nº 58 - Routar
3510-839 Torredeita
Telephone:
+351 968 747 401 - 232 998 274
Gay friendly
Number of apartments
: 2
Number of beds
: 12
Number of rooms
: 6
Rooms in the main house
: 6
Double rooms with toilet
: 2
Double rooms without toilet
: 4
Internet Access
Central heating
Laundry service
Television room
Garden
Internet access in room
Heating in room
Hair dryer in room
Breakfast timetable
: 8 a.m.- 10 a.m.
Room service timetable
: 11 a.m. - 3 p.m.
Bike friendly
Buses
Outdoor parking
Disabled access
Accessible route to the entrance:
Accessible entrance:
Accessible circulation inside:
Guiding price
: $$$$ (>90€)
Credit cards accepted
---