Savoy Gardens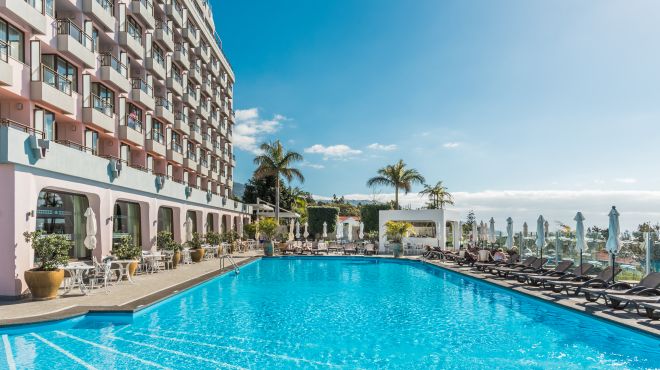 Savoy Gardens
Type of accommodation
Hotel accommodation
Category:
Hotel
Classification:
****
TheTui Blue Gardens - Adults Only is an elegant, completely renovated 4-star boutique hotel that welcomes its guests with a fresh, modern image and spectacular views of the sea that cannot fail to impress.

Located on a sunny slope near the centre of Funchal, the Tui Blue Gardens - Adults Only overlooks the gorgeous scenery of the city and the sea. Renowned for its long history of personalised service, this 4-star hotel is a fabulous destination for your holiday in Madeira.The hotel's fantastic rooftop terrace, complete with sun lounges, showers and a bar, also boasts a soothing whirlpool, which sits on a raised wooden deck.The stunning panoramic views together with these facilities make this space a fantastic chill-out area.
Every evening, exciting live music is performed at the hotel's vibrant night club, where visitors can enjoy dancing. Experience an unforgettable holiday at the Tui Blue Gardens - Adults Only, where relaxing days and fun-filled nights are guaranteed.
Contacts
Address:
Azinhaga da Casa Branca
9004-543 Funchal
Telephone:
+351 291 213 600
Gay friendly
Internet Access
Air conditioning
Central heating
Restaurant
Bar
Laundry service
Games room
Television room
Sauna
SPA
Sun beds
Swimming-pool
Indoor swimming-pool
Number of beds
: 264
Number of rooms
: 121
Number of suites
: 11
Target price
: $$ (30€ - 60€)
Internet access in room
Air conditioning in room
Steel safe in room
Mini-bar in room
Hair dryer in room
Heating in room
Telephone in room
Television in room
Breakfast timetable
: 07:30 - 10:00
Room service timetable
: 07:30 - 22:00
Transfer service
Outdoor parking
Disabled access
Reserved parking spaces
Accessible route to the entrance:
Accessible entrance:
Reception area suitable for people with special needs
Accessible circulation inside:
Accessible areas/services:
The Savoy Gardens Hotel is a new concept in Adults Only accommodation. Conceived as a place for rest and fun specially dedicated for those seeking a relaxing although extravagant vacation: unique experiences, amazing entertainment programmes, personalised service and attention to detail and all the commodities and services of a hotel for guests over 16 years of age.
Registration No.
: 320
---