A tour of the São Mamede Natural Park - Portalegre, Marvão and Castelo de Vide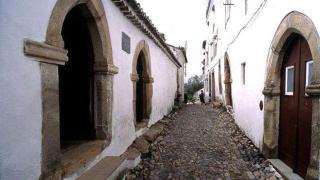 ---
Don't miss
visit the Portalegre Tapestry Musem
buy some cork as a souvenir
climb to the highest point south of the River Tagus, the Pico de São Mamede, at 1025m above sea level
visit the Castelo de Vide during Easter
drink some water in Castelo de Vide
climb the highest tower in the Marvão castle
We cross Portugal in an instant and reach the northern Alentejo to discover a haven of wide horizons and hospitable people in the São Mamede Natural Park. For your first visit, we suggest a drive with stops at three unmissable places: Portalegre, Castelo de Vide and Marvão.

Before entering the park, visit Portalegre
Portalegre has a long history. It was a rich, prosperous city in the 17th and 18th centuries, due to its investment in the textile industry, and it is still known for that tradition. You should therefore visit the Museu das Tapeçarias da Manufatura de Portalegre (Portalegre Tapestry Museum), housed in a former Manor House. Each tapestry is a unique piece made using a hand loom technique that allows the gradations and shades of a painting or a drawing to be reproduced to perfection. They are very valuable, and are greatly appreciated by contemporary artists as reproductions of their works of art.

Strolling through the city, you can see many palaces and monuments that recall the by-gone golden days. These include the mediaeval Castle; the great Cathedral, where you can admire a unique collection of 16th and 17th century Portuguese paintings and tile panels with biblical scenes; and the José Régio House-Museum, the former home of this poet, a passionate collector of pieces of sacred and popular art. Before continuing your journey, visit the Church of the Convent of São Francisco, built on the site of the former Robinson Cork Factory, which was very important for the development of the city.


---
---