The Algarve trough the eyes of Róisín Curé
Róisín Curé had never been to Portugal but was already interested in getting to know the country and so when she was invited by Sketch Tour Portugal she decided to start to learn a bit of Portuguese. She had some ideas about Porto and Lisbon but all she knew about the Algarve was that it is holiday destination popular with the Irish.

As soon as she was welcomed in the Algarve and saw storks in the middle of Faro, she felt that the trip was going to be special. The flamingos and agaves in the Parque Natural da Ria Formosa, the light and colours of Ilha do Farol, going through Faro, Vilamoura, Loulé, Monchique and the end of the trip, on the beaches of Aljezur were good pretexts for sketching. One aspect that stayed in her memory and in the drawings was the local culinary specialities, in particular the cataplana, fresh fish and octopus cooked in a delicious casserole.

She ended up feeling that Portugal was a paradise for sketchers and that this challenge and desire to draw all the places they went through made her a better sketcher.
Olhão


Parque Natural da Ria Formosa / Natural Park of Ria Formosa



Faro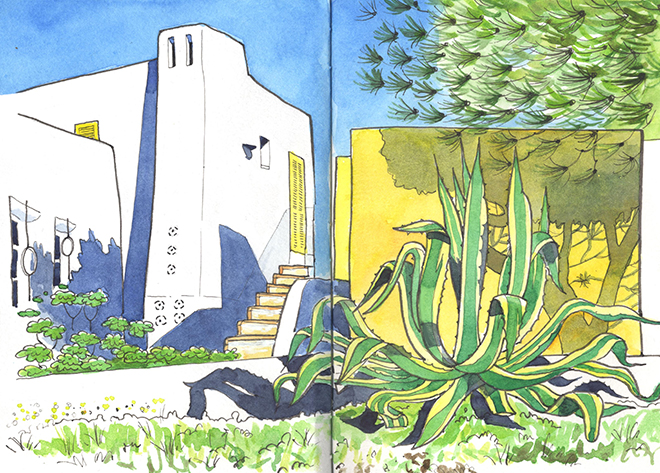 Quinta do Lago



Vilamoura



Loulé



Paisagem Protegida da Fonte Benémola / The Protected Landscape of Fonte Benémola


Caldas de Monchique



Praia do Beliche / Sagres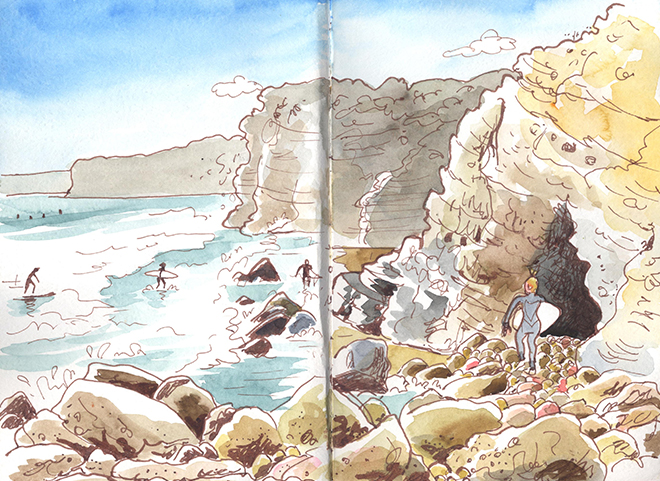 Aljezur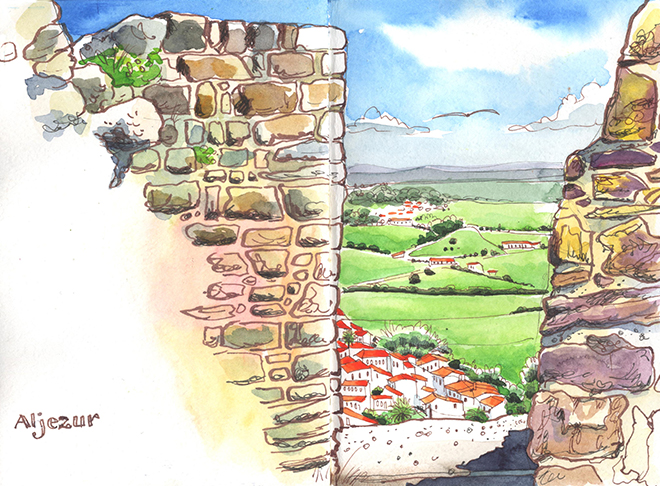 ---

Róisín Curé
Róisín lives in Galway on the west coast of Ireland. During a sabbatical year in Mauritius in 2012, discovered the graphic diaries that have enthused her since then. In 2014 she founded the Galway group of Urban Sketchers and became a correspondent of the Urban Sketchers' blog. She has taught sketchers in local and international workshops since 2015. The narrative elements in the drawings are extremely important to Róisín, and in 2017 she secured her first contract to publish a book of drawings and stories based on her home town of Galway. Róisín speaks French and Spanish fluently and is currently learning Portuguese.
---
---