Casas de Sequeiros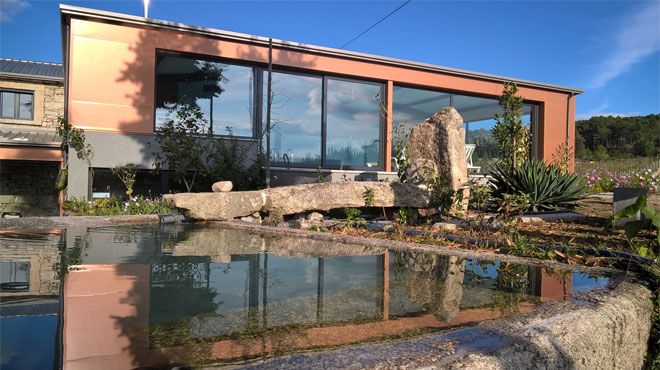 Casas de Sequeiros
Type of accommodation
Tourism in the Country
Category:
Country Houses
Casas de Sequeiros is a private property located at Sequeiros, Aguiar da Beira, composed by several country houses that provide you an ensemble of high quality facilities and services that will make you live true and genuine experiences that reflect the spirit of the region. Landscape is a true granite monument that transforms itself into belvederes to green fields cut out by streams that make agriculture flourish.
At just a few kilometers away from Viseu, Lamego and Guarda this region is rich on cultural, natural patrimony. From the Historical Villages to the Távora river and the several sanctuaries the region captivates and embraces the visitor by its diversity, tranquility and hospitality of those who live here.
There are several types of country houses from T1 to T3 that can house from 2 to 6 guests.
Every house has a living room, equipped kitchen, flat-screen TV, central heating and Internet wireless.
Casas de Sequeiros also have a wide common area with dinners room, game room with billiards table, table tennis, bar and indoor swimming pool.

Contacts
Address:
Rua do Cano N.º 8
3570-192 Sequeiros
Telephone:
+351 232 39 09 98; +351 96 112 45 73
Number of beds
: 14
Number of rooms
: 7
Number of detached houses
: 4
Double rooms with toilet
: 4
Double rooms without toilet
: 3
Bar
Smoke free
Reserved area for non-smokers
Pets allowed
Internet Access
Central heating
Laundry service
Games room
Television room
Swimming-pool
Indoor swimming-pool
Garden
Internet access in room
Heating in room
Hair dryer in room
Breakfast timetable
: 8.30am - 10.30am
Bike friendly
Transfer service
Buses
Outdoor parking
Disabled access
Facilities for disabled
Reserved parking spaces
Accessible route to the entrance:
Accessible entrance:
Reception area suitable for people with special needs
Accessible circulation inside:
Accessible areas/services:
Bedrooms
Meeting rooms
Bar/Café
Patio
Swimming pool
Support products/services available:
Guiding price
: $$ (30€ - 60€)
Credit cards accepted
Registration No.
: 5655; 5656; 5657
---