M'Ar de Ar Aqueduto - Historic Design Hotel & SPA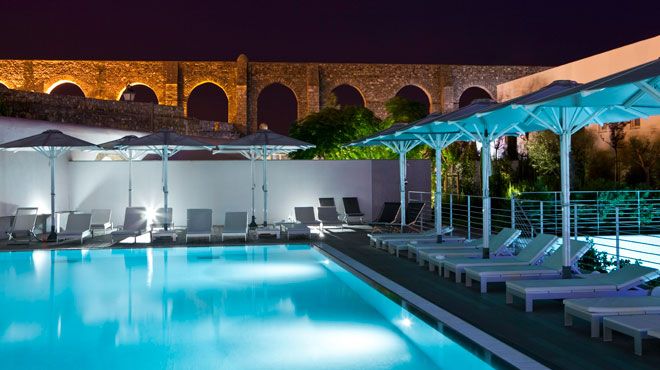 M'Ar de Ar Aqueduto - Historic Design Hotel & SPA
Type of accommodation
Hotel accommodation
Category:
Hotel
Classification:
*****
M`AR De AR Aqueduto is the five star hotel of the city of Évora. Located right in the historic center of Évora, a city classified by UNESCO as World Heritage. The building, previously known as the Sepulveda Palace, is a magnificent construction of the XVI th. century, and still keeps a beautiful chapel, dome ceilings and a set of three Manueline windows on the main facade.
This boutique hotel, built under the most contemporary concepts of architecture and design, offers 64 rooms, a 220 m2 SPA, and the restaurant Degust`AR, where one can enjoy the Mediterranean flavors of Chef António Nobre.
Meeting rooms are available in the main building of the Palace, as well as in the old wings of the adjacent Saint Manços College, all offering special conditions for events up to 200 people.
Contacts
Address:
Rua Cândido dos Reis, 72, 7000-782 Évora
Telephone:
+351 266 740 700
Gay friendly
Internet Access
Air conditioning
Restaurant
Bar
Laundry service
Television room
Gymnasium
Sauna
Swimming-pool
Garden
Reserved area for non-smokers
Reserved area for smokers
Number of beds
: 128
Number of rooms
: 60
Number of suites
: 4
Target price
: $$$$ (>90€)
Internet access in room
Air conditioning in room
Steel safe in room
Mini-bar in room
Hair dryer in room
Heating in room
Telephone in room
Television in room
Breakfast timetable
: 07AM to 10:30AM / Weekend: 07:30AM to 11:00AM
Room service timetable
: 24H
Bike friendly
Transfer service
Outdoor parking
Covered garage
Disabled access
Reserved parking spaces
Accessible route to the entrance:
Reception area suitable for people with special needs
Accessible circulation inside:
Accessible areas/services:
Bedrooms
Meeting rooms
Restaurant
Bar/Café
Patio
Swimming pool
Gym
Spa
Care skills:
Visual impairment
Motor disability
Mental disability
Support products/services available:
Visual impairment
Motor disability
Mental disability
---
---