Pé no Monte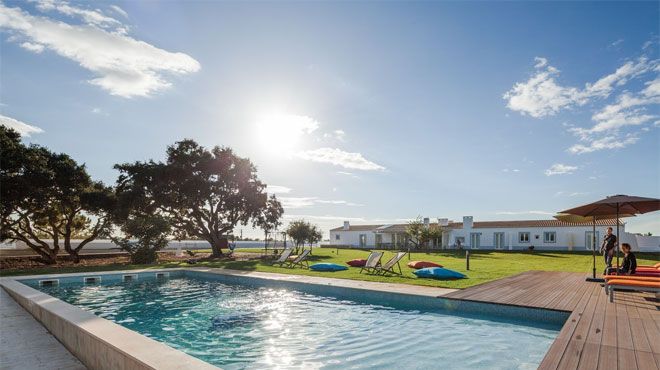 Pé no Monte
Type of accommodation
Tourism in the Country
Category:
Country Houses
Pé no Monte is only 10 Km from some of Portugal's finest beaches such as Zambujeira do Mar and Carvalhal, and is the perfect spot to rest in the peacefulness of the countryside, while exploring the Southwest Alentejo and Vicentine Coast. You'll find a design hotel set in a typical traditional Alentejo farmhouse (Monte) extended with a cutting-edge modern extension where the rooms are located.

The country house hotel is located near the village of São Teotónio. In a 10ha estate this unit was born out of the passion of Helena and Gonçalo for the Alentejo coast which made them invest in rural tourism in a family and cozy environment. The minimalist modern architecture blends in very well with the rural surroundings.

Contacts
Address:
Pé no Monte
Caixa Postal 5999A
7630-658 São Teotónio
Telephone:
+351 91 662 44 52
Number of beds
: 22
Number of suites
: 1
Number of rooms
: 6
Number of detached houses
: 1
Double rooms without toilet
: 6
Bar
Smoke free
Reserved area for non-smokers
Internet Access
Central air conditioning
Games room
Television room
Swimming-pool
Garden
Internet access in room
Air conditioning in room
Hair dryer in room
Television in room
Breakfast timetable
: 9:00am - 11:00am
Bike friendly
Transfer service
Outdoor parking
Disabled access
Accessible route to the entrance:
Accessible entrance:
Reception area suitable for people with special needs
Accessible circulation inside:
Accessible areas/services:
Meeting rooms
Bar/Café
Patio
Swimming pool
Care skills:
Visual impairment
Motor disability
Mental disability
Guiding price
: $$$ (60€ - 90€)
Credit cards accepted
Bet Rural Tourism in Alentejo Award 2015
Registration No.
: 4995
---