Colmeal Countryside Hotel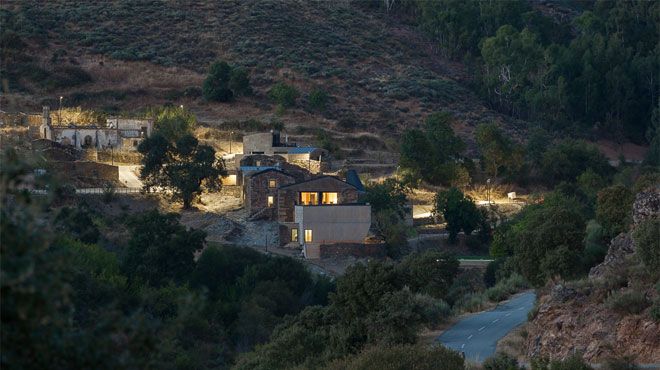 Colmeal Countryside Hotel
Type of accommodation
Hotel accommodation
Category:
Hotel
Classification:
****
Silence is more than the absence of noise. Silence is a state of mind in which time and discernment are on our side. In this space of balance we can break the silence to listen. To ourselves and to those that are most important to us. And so begin anew, aspiring to new possibilities, since listening is also understanding. At the Colmeal Countryside Hotel, we do not make strict vows of silence but of serenity. Welcome to the land of silence. Find what you need to switch off from the world. And connect to yourself.

On a farm spread over more than 650 hectares lies the historical and uninhabited village of Colmeal. The diversity of its cultural heritage is revealed in the ancient schist and granite dwellings of the Lusitanian shepherds, in a 15th century church and in the rock paintings of the Neolithic period. A perfect scenario full of symbolism and history.

Hiding in Serra da Marofa, municipality of Figueira de Castelo Rodrigo, the Colmeal Countryside Hotel is more than a rural hotel. Located in a rural space, its architectural design respects the local characteristics. But it respects even more the tradition of welcoming from a new perspective – silence.

Contacts
Address:
Quinta do Colmeal
6440-062 Colmeal, Figueira Castelo Rodrigo
Telephone:
+351 271 312 352
Internet Access
Air conditioning
Central heating
Restaurant
Bar
Shops
Laundry service
Television room
Sauna
SPA
Swimming-pool
Garden
Baby Sitting
Baby-care facilities
Reserved area for non-smokers
Reserved area for smokers
Pets allowed
Number of beds
: 30
Number of rooms
: 13
Number of suites
: 1
Target price
: $$$$ (>90€)
Internet access in room
Air conditioning in room
Steel safe in room
Mini-bar in room
Hair dryer in room
Heating in room
Telephone in room
Television in room
Breakfast timetable
: 8:30 am - 10:30 am
Bike friendly
Transfer service
Outdoor parking
Disabled access
Reserved parking spaces
Accessible route to the entrance:
Accessible entrance:
Reception area suitable for people with special needs
Accessible circulation inside:
Accessible areas/services:
Bedrooms
Meeting rooms
Restaurant
Bar/Café
Patio
Swimming pool
Spa
Care skills:
Visual impairment
Hearing impairment
Motor disability
Mental disability
Support products/services available:
Registration No.
: 6119 (hotel) / 6120 (TER)
---