Ideias Essenciais Eventos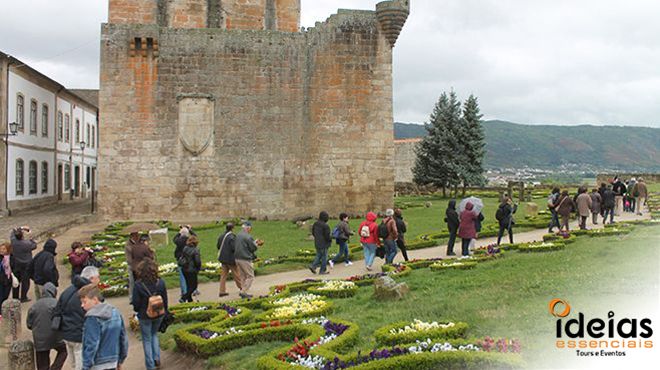 Ideias Essenciais Eventos
Ideias Essenciais - Tours e Eventos is not a company like others that gathers tourists, takes a history lesson on the monuments of the cities and in the end says goodbye!

No, these are not us!

We are much more than that! We are people who like what we do, we like to provide our tourists with unique experiences of interaction with traditions and people of the region.

We are a company dedicated to tourist support in the Alto Tâmega and Eurocidade Chaves-Verin Region, we are located in Chaves in the north of Portugal.

We have tours for all Alto Tâmega (Chaves, Boticas, Montalegre, Ribeira de Pena, Vila Pouca de Aguiar, Valpaços) and Eurocidade (Chaves, Verin (Spain)).

Diversified tours, from landscape, cultural, adventure, religious, gastronomic.

Unique tours in which we take tourists to unique experiences and situations in our region, from going to eat at the farmer's house, drinking wine directly from the wine barrel, picking the chestnut, making the bread itself, sleeping in the middle of the mountains, visit Larouco full of snow and see the beautiful waterfalls that our region has.

All our Tours are prepared with overnight stays and food if the client so wishes, as well as guides in several languages.

Our tours can be made from two people or to large groups.

Highlighted and advised by the welcoming and helpful way in which we treat all groups that come to us, accompanying them from the first to the last minute.

We have the ability to facilitate group transport through our 9-seater vans and buses, as well as making reservations and reservations at restaurants, hotels and other services in the region, with special prices for groups, and associations.

We are registered in Turismo of Portugal with the RNAAT nº: 532/2016, with headquarters in the City of Chaves.

Come and enjoy the best of Alto Tâmega with Ideias Essenciais - Tours e Eventos, a different way of living and feeling tourism.

We also do several sightseeing tours (excursions) for the whole country and abroad.

We organize all kinds of Events!

Services:
• Tourist accompaniment with specialized guides;
• Sightseeing and tours;
• Personalized and appropriate tourist programs for the client;
• Guided visits to museums, monuments and other places of heritage interest;
• Walking and hiking routes;
• Activities and teambuilding;
• Event planning and management.
Contacts
Address:
Avenida do Tâmega, 34
4400 Chaves
Telephone:
+351 933 210 651
Bike hire
Cycling
Canoeing
Canyoning
Climbing
Karting
Mountain Climbing
Off-road motorcycling
Birdwatching
Nature watching
Observation of geology
Orienteering
Paintball
Paragliding
Walking
Rafting
Abseiling and Aerial slides
Off-roading
Clean&Safe – The Clean&Safe stam confirms that the hotel or other tourism establishment is compliant with hygiene and cleaning requirements for the prevention and control of Covid-19 as recommended by the DGS - Directorate-General for Health. More information at www.visitportugal.com/en/node/422183.
Registration No.
: 532/2016
---