Hotel Charming Blue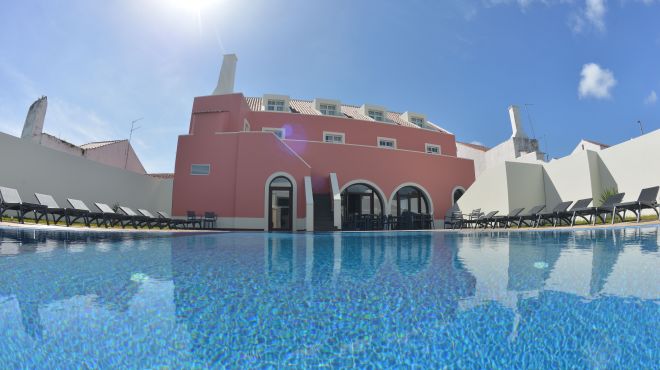 Hotel Charming Blue
Type of accommodation
Hotel accommodation
Category:
Hotel
Classification:
****
Charming Blue is a 4 Star Hotel in Santa Maria Island–Açores, on the heart of Vila do Porto.

It as also a extraordinary outsider pool, a great view to the sea and mountains, as well to the historical center of the village and of course his Restaurant Mesa d'Oito.
The rooms have themes regarding arts:
Painting, Sculpture, Written and Music…
Becoming a one and only place on the Island with such details…
It offers a full hand services like hiking, bike rental, diving and a SPA perfect to the client.
Mesa d'OitoRestaurant represente one of the amount of services that we can offer.
With a space adapted of the clients needs, cozy and versatile.
With a balcony to enjoy the sunny afternoons, with the flavor of the Restauran's cocktails.
A living room to taste the five o'clock tea…

A space made to fit the client and to the client!
Contacts
Address:
Rua Teófilo de Braga N.º 31
9580-535 Vila do Porto
Telephone:
+351 296 882 083
Gay friendly
Internet Access
Air conditioning
Central heating
Restaurant
Bar
Laundry service
Television room
Swimming-pool
Garden
Reserved area for non-smokers
Reserved area for smokers
Number of beds
: 30
Number of rooms
: 15
Target price
: $$$ (60€ - 90€)
Internet access in room
Air conditioning in room
Steel safe in room
Mini-bar in room
Hair dryer in room
Heating in room
Telephone in room
Television in room
Breakfast timetable
: 8:00 am - 10:00 am
Room service timetable
: 8:00 am - 10:30 pm
Bike friendly
Buses
Outdoor parking
Disabled access
Reserved parking spaces
Accessible route to the entrance:
Accessible entrance:
Reception area suitable for people with special needs
Accessible circulation inside:
Accessible areas/services:
Bedrooms
Restaurant
Bar/Café
Patio
Swimming pool
Care skills:
Visual impairment
Motor disability
Mental disability
Support products/services available:
Motor disability
Mental disability
---