Penedo da Saudade Suites & Hostel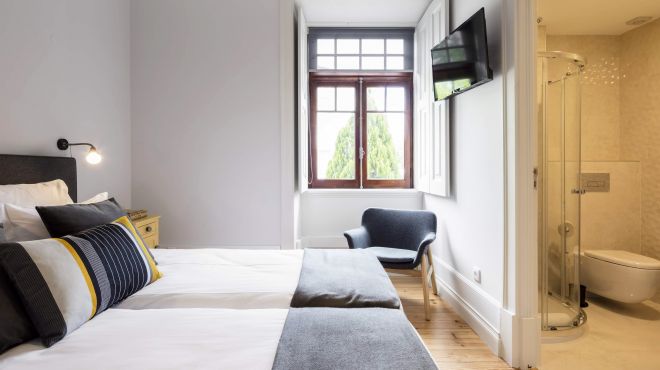 Penedo da Saudade Suites & Hostel
Type of accommodation
Local accommodation
Category:
Lodging establishments / Hostel
Located in the prime area of Jardim do Penedo da Saudade and in a protected area of UNESCO Heritage, this lodging, with the same name, is much more than just an accommodation. Respecting the characteristics of the existing construction, the building from the beginning of cent. XX- once a Republic of Coimbra, has been adapted to provide rooms and common spaces bathed in natural light and decorated with care and detail. Inspired by academic experience and Coimbra traditions, guests are welcomed into a house that belongs to everyone and that will be the starting point to experience the Coimbra love Affair.

This local accommodation has double and family bedrooms, decorated in style and inspired by the colors of the University of Coimbra courses, all with en-suite bathrooms and a special bedroom: a Suite with a panoramic terrace.Dorms can be feminine or mixed, are spacious, welcoming and cherish the privacy of those who use them, with access to sanitary facilities that match the academic experience.

Contacts
Address:
Av. Dr Marnoco e Sousa, 18 B
3000-271 Coimbra
Telephone:
+351 937 514 507 / 239 049 889
Internet Access
Central air conditioning
Bar
Lockers
Kitchen
Number of beds
: 37
Number of rooms
: 11
Number of rooms with private bathroom
: 9
Shared rooms
: 3
Breakfast
Terrace
Check-in - 15:00 - 17:00
check-out - 8:00 - 12:00
Breakfast timetable hours
: 7:30 - 10:00
Transfer service
Bike friendly
Buses
Train stations
Disabled access
Accessible route to the entrance:
Accessible entrance:
Guiding price
: $$$ (60€ - 90€)
Credit cards accepted
Registration No.
: 72235/AL
---