The Azores: Nine Islands – A Geopark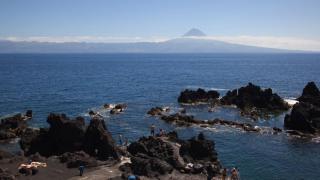 The Azores originated as a result of the 1766 volcanoes that are to be found in this archipelago, nine of which are still active. The Azores Geopark was born out of all this natural wealth, as part of the European and Global Network of Geoparks. Its aim is to promote and protect the geological heritage of the archipelago.

The Azores Geopark is unique worldwide because it offers 121 geosites scattered throughout the nine islands and surrounding marine area, mirroring the vast volcanic geodiversity of the archipelago. There are nine islands, but only one Geopark!

In the subsoil, there are nearly three hundred volcanic cavities in the form of caves, grottoes and crevices. On the landscape, there are dry calderas, lakes in craters, fumarolic fields and hot springs. Underwater geothermal sources are found out at sea. The majestic mountain of Pico, whose cone is still intact, seems to protect all these geological riches. As a testimony to the power of nature, the archipelago's volcanic history is impressive for the diversity of the region's geological heritage that reflects a geological memory of 10 million years.

The Azores Geopark Association has created new services, routes and interpretative products, implementing a high level of quality geotourism in the region, in close connection with other strands of Nature Tourism.
---