Gardens, Parks and Quintas in Madeira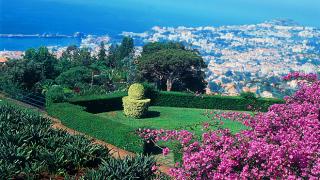 Famous all over the world for its natural beauty, the Island of Madeira is often called "the floating garden of the Atlantic". Here, the hues of the vegetation that covers the hillsides are matched only in the exotic flowers that bloom from every recess.

Owing to its mild, year-round temperate climate, you can admire flowers and plants from nearly every continent in their natural environment, such as orchids, birds of paradise, anthuriums, magnolias, azaleas, proteas, and many others.

Some of these tropical and subtropical plants were introduced into the Island in the 18th and 19th centuries, by British merchants who made their fortunes from the Madeira wine trade and chose the Monte, Camacha, Santo da Serra and Jardim da Serra neighbourhoods to set up their quintas. The cooler and more humid climate in these areas, closer to English weather conditions, made them ideal for the plants to adapt.

The Quintas of Madeira are today one of the region's great attractions. You can get to know them since many have been restored for different purposes, such as holiday accommodation, museums, and cafés. The Quintas of Madeira boast large, spacious blooming gardens, brimming with the rarest and most varied plant life, and offer spaces that encourage you to rest and relax or simply gaze at nature. They are indeed ideal places for a stroll or to spend a family holiday.
---