Discover the Manueline style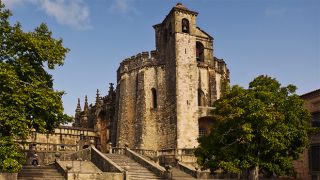 Arising out of the will of a king and from the creative genius that existed in Portugal in the 16th century, Manueline art is a genuinely Portuguese form of artistic expression.

The Age of Discoveries brought great wealth and knowledge to Portugal. At that time, the Portuguese explorers unveiled far-off civilizations to the world and many foreign artists came to work in Portugal. This meeting of cultures gave birth to the Manueline style, a very specific interpretation of the Gothic in terms of architectural structure and decoration. It is possible to identify a set of ornaments and a combination of symbols that are only found in Portugal. The style emerged during the reign of King Manuel I (1495-1521) but the name to describe this creative spirit was not adopted until the 19th century.

The Tower of Belém and the Jerónimos Monastery are exemplary highlights, but in all the works constructed at that time the Ringed Sphere and the Cross of Christ are easily identifiable. They are the personal symbols of the King and a reflection of the temporal and spiritual power to which he aspired. Many other earthly and religious symbols were adopted and exuberantly decorated Gothic architecture, such as branches and foliage, twisted ropes and strange marine forms, all meticulously carved in stone. It was the marketing of the time.

The first examples are found in the Monastery of Jesus, in Setúbal, but it is in the buildings of the Monastery of Batalha and the Convent of Christ in Tomar, that we can marvel at the Manueline style and where all the secrets of the King's message are revealed.

Sintra will astound you. The Palácio da Vila, where King Manuel I lived, reveals his fascination with Mudejar art, which combined perfectly with the new style. In the romantic Pena Palace, you will be surprised at the 19th century revivalist vision of Manueline art.

You must be alert when you are travelling across the country. A portal here, a twin window there, a small church or other details that can be found in older buildings, will allow you to get to appreciate the genius of Manueline art.
---