Nelson Paciência in the Centro de Portugal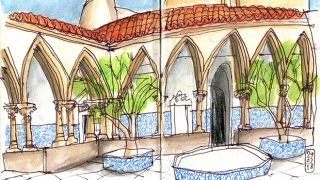 For Nelson, drawing is a way of slowly observing and feeling close to history, the smells and the sounds of the places he visits. This was what happened during the Sketch Tour trip through Centro de Portugal, in the company of Inma Serrano.

Alcobaça, Peniche, Batalha, Óbidos and Tomar are places that he visited as a child, and this closeness was shared with Inma in their sketches.

"I've been to lots of places and never sketched in them, and it's only when I go back to those places, just to draw them, that I'm capturing them and putting them in my memory. Sketching is being able to bring a little bit of places with us."

Óbidos



Peniche



Praia da Física, Torres Vedras



Tomar



Convento de Cristo / Convent of Christ



Mosteiro da Batalha



Mosteiro de Alcobaça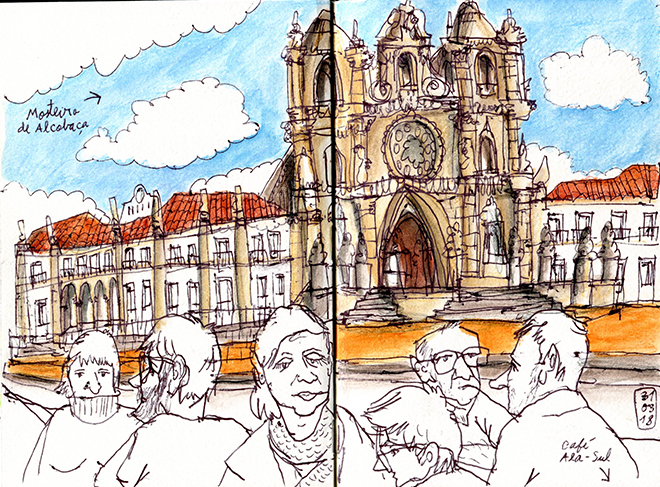 ---
Nelson Paciência
Nelson Paciência is an architect who lives and works in Lisbon. He is married and has two children.
He has been with Urban Sketchers Portugal since 2012, when he came across urban sketching for the first time. Has often been invited to talk to students about his sketching experience. Since 2013, he has participated in individual and collective exhibitions in Portugal, Spain and Italy. He has co-authored the books "Lisbon by Urban Sketchers", "Portugal by Urban Sketchers" and "Oporto by Urban Sketchers".
He won a scholarship to the Portuguese correspondent in the 2014 USK Symposium in Paraty and was an instructor in 2016 Symposium held in Manchester. In 2017 he took part in the Chicago Urban Sketchers Symposium, with a workshop called "Follow your senses." Also in 2017, he was an instructor on the 10 years x 10 classes programme in Lisbon.
Between 2014 and 2015 he was a volunteer in Monsanto prison in Lisbon, giving regular drawing sessions to a small group of prisoners.
He is currently the President of the Portuguese Urban Sketchers Association (USkP) and is the host representative at the 2018 Porto Symposium.

Blog: http://nelsonpaciencia.blogspot.pt/
---